How to select a mirror
A mirror is a decorator's secret weapon. Far from simply being a practical object in which to check your face, a beautiful mirror can be used to amplify light, add drama, create interesting reflections and frame views. It's astounding how the addition of a mirror can transform your space, resolving any interiors dilemma in an instant. Think beyond the bathroom and take a look at our top ten design tips for using mirrors in your home.

How to make the mirrors brighter
To let the light in, simply place a mirror opposite or next to a window to increase the amount of natural light cast into the room. A mirror will harness any daylight possible (no matter how gloomy the sky is outside) so the bigger the mirror, the brighter space. Mirrors effectively double up your light sources. If you're challenged with decorating a cavernous space, place your mirrors near a lamp or window. The Hilde Mirror is the perfect piece for a bedroom and will make space feel lighter and more open, especially when placed above a mirrored chest of drawers. You can use mirrors to enhance a room
Mirrors are a cunning way to deceive the eye. They can be used to enhance something or deflect attention away from it. Awkward spaces, such as rooms with a sloping ceiling or a gap too small to fit a piece of furniture, can be repurposed with a mirror. Did you know that mirrors are a brilliant way to boost the atmosphere in your entertaining space? Placing a large mirror against a wall can create the illusion that there are more guests at a gathering.
When to make a mirror your focal point
In rooms where there isn't a fireplace or mantelpiece to position your furniture around, a mirror is a great tool for dictating the center of the room. And in homes where there does happen to be a fireplace, it only serves to exaggerate the impact of the mirror's presence. In fact, a mirror with an ornately carved framework just as well as a painting when it comes to choosing decorative art for your home.
Make your mirror a window
For windowless rooms, the addition of a mirror makes it feel much brighter and more spacious. Choose designs that feature traditional window frame parts such as separated mirror panes or shutters to help create the illusion. A well-positioned mirror can make a smaller room look more expansive and will play off light emitted from the natural windows in a larger room. The Ikkuna Mirror and the Mevagissey Arched Window Mirror are perfect examples of mirrors that achieve this effect.
How to use mirrors to illuminate dark corners
Maximize the amount of light in space by placing a mirror behind a switched-on lamp, or pair with mirrored furniture to reflect all sources of light (both natural and artificial) and brighten up your scheme in turn. As you can see, the Trois Mirror is ideal for adding a pocket of light to a dark corner.
Choose different shaped mirrors
The right shaped mirror will optimize natural light flooding into a room (when positioned in the correct place). Don't just stick to traditional rectangular mirrors. Consider the shape or style of your room and reflect that in the frame of your chosen mirror. Mirrors don't always have to be practical. An unusually shaped one will certainly create a talking point whilst giving a room the wow-factor. The Oranssi Mirror has the most spectacular beveled border. Experiment with creative mirror placement and positioning – a vertical mirror used horizontally as a headboard for example – for different effects.
Use mirrors to double your space
Adding a mirror will double the space in an instant. Small spaces benefit from introducing a mirror: transform a storage cupboard into a small work area or use a slim pier mirror make a narrow hallway appear much longer. When it comes to updating your interiors, place a mirror on your largest wall to reflect as much light as possible back into the room. Square-shaped mirrors – such as the Hercule Mirror – look great placed above a mantelpiece or console table. Alternatively, they can be used in multiples to create a wall of mirrors.
How to hang mirrors to exaggerate symmetry
Mirrors are key components when it comes to framing your view. When used in pairs on either side of a window or doorway, they create a sense of balance and harmony, mirroring the opposite side of the room front to back as well as left to right. They are a fantastic way to dictate whether you are going for an orderly or eclectic layout. Our Bubble Mirrors can be hung in so many different ways.
How to use a group of mirrors as decoration
Consider using a group of mirrors as decoration to breathe new life into a plain wall. They could all be the same shape, have the same color frame, or be an eclectic mix of lots of mirrors that you love. Alternatively, choose one big, bold statement mirror then build your scheme around it. There is rarely such a thing as a mirror which is too big. And mirrors don't get much bigger than the Arcadia Mirror. This eye-catching staple has a mesmerizing starburst design and is rounded off with a stained wooden finish.
How to use mirrors outdoors
That's right – mirrors are not just for inside the home. Use mirrors to introduce more natural light in a North facing terrace, a basement level garden or a shady courtyard. If you live in an urban area, you might want to choose a mirror that will expand the horizon of an enclosed garden. In a country setting, the use of mirrors is a lovely way to catch a glance at the wildlife and fauna residing outdoors and create the illusion of even more greenery. This kite-shaped mirror evokes connotations of blue skies and being outdoors. The Airadee Mirror is heavily antiqued, so is suitable solely for decorative purposes. However, it will work in an indoor or outdoor setting. Once you have dipped your toe in the water and decorated your home with a few mirrors, there's no looking back. The statement, large, small, square and rectangular – we have every mirror possible to solve any decorating dilemma. Choose from an assortment of shapes, materials and colors. For further inspiration, browse our selection of mirrors.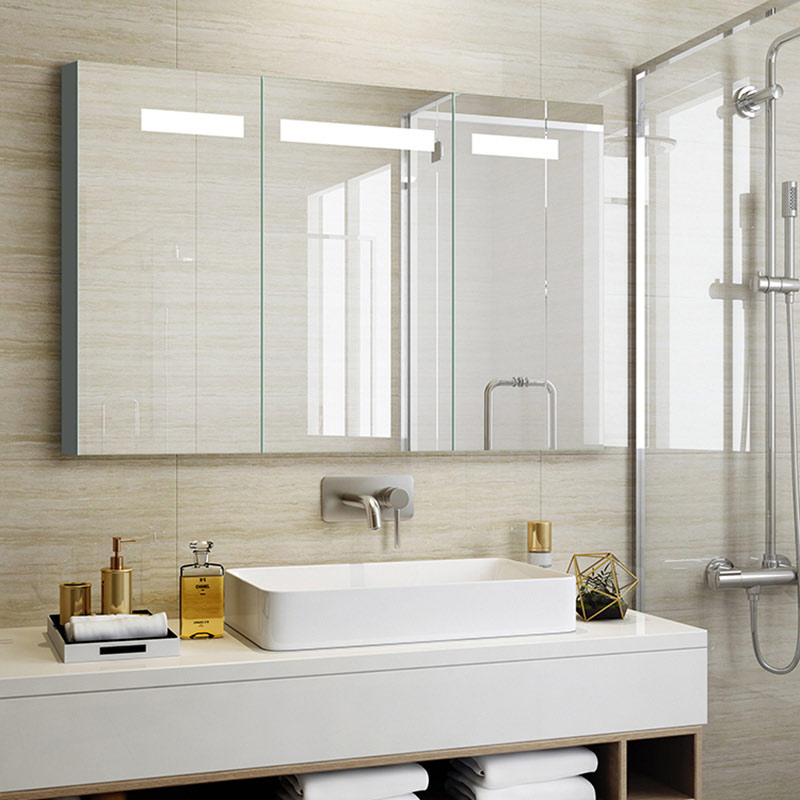 Bathroom Mirror
I have to admit, I am pretty much a one-trick pony when it comes to bathroom mirrors. I like them simple. I don't really do a statement mirror in a bathroom. I prefer to use lighting that has a stronger presence and a really well-designed faucet, leaving the mirror to be quieter. I might defer from this recipe in a powder room and use a mirror that has a bit more of an eclectic shape, but still, it's gotta be clean looking and not too fussy.
A few more things to think about:
Size matters! Measure out a mirror and use painter's tape on your wall to show the size and shape. Some mirrors are really short, I'd rather use a taller mirror, which tricks your eye into thinking you have taller walls! Also, keep the width of the mirror inside the sink or vanity - don't use a mirror that is wider than your sink/vanity! The scale will feel off. As with everything else, I'd rather the size of the mirror be a little too big, than too small. Mixing up materials! A mirror is a very easy way to introduce new material or finish in your bathroom. If your faucet, toilet paper holder and towel ring are all nickel, try brass or matte black framed mirror. It will feel more layered and interesting to have a different finish in the room. If you want to have a more organic vibe, a wood-framed mirror will easily get you there. There are lots of good options out there, so I'm sharing them all with you! I found lots of mirrors with shelves and am obsessed. Let me know if you end up with any of these in your bathroom!
Note: this blog post contains some affiliate links, meaning that I receive a commission if you buy something I recommend here. It doesn't affect the price, and I only recommend things I personally love & that I think you'll love it too.
How To Find The Best Bathroom Wall Mirror For You
There's more to a stylish wall mirror than pure functionality. Beyond reflecting your beautiful face and giving rooms the appearance of more spacious, we like to think of wall mirrors as sculptural art and showpieces. They make captivating focal points above a console in the entry; they can add depth and dimension on the wall behind a sofa or a bed, or they can serve as sparkling accents that lend a touch of shine to empty walls. All to say, a well-placed wall mirror can instantly transform a room, offering both chic style and a new perspective.
But when it comes to choosing a mirror that's suited to your style and space, the endless options can feel overwhelming. Should you go with a chunky octagonal wood frame or a large and minimal round mirror instead? Does a rattan or sisal frame feel too beachy in an apartment? Don't worry, we're right there with you.
To simplify your search, we've rounded up our top ten picks for the best mirrors in the market now. Read on to see how you can bring them into your home and make them work for your style and needs.
How to Choose the Best LED bathroom Mirror
A lighted mirror mimics the natural light and makes you see yourself crystal clear even at night time. The main purpose of such a bathroom or room accessory is to aid in clear visualization by means of natural light focused on the face. This is especially helpful for nighttime makeup application when brightness is insufficient. Nevertheless, makeup mirrors with light provide adequate illumination for women to carry out normal beautification routines before going out on a date at any time of the day. If you are going to apply makeup for the day then of course the best light for doing it is the one that you will have to face the whole day and that's daylight. But since you don't have natural light for applying makeup at night, this makes the LED bulb the most element for an efficient makeover. And that's definitely because of the light it emits. But since there are many types of LED mirrors available, you need to consider several other features such as the size, magnification and placement or portability of the mirror before purchasing.
Choosing the best bathroom lighting
The most important feature of all is the light emitting from the mirror. Sometimes some mirrors make you look good; in fact, they make you look like super models. This is not a good feature of vanity lighted mirrors because once outside, you will look like your true self no matter what. So if you apply horrible makeup you'd still look fabulous in the mirror but not beyond that limit.
Color: The light closest to the natural light is the white light. So keep an appropriate distance from warm and yellow light bulbs because they will make you look good no matter what you have done to yourself. That's why candlelight dinner is so romantic. It's very lenient and makes everything looks great no matter how bad it is.
Dimming ability: A dimmable lighted makeup mirror lets you see your makeup in different settings. A perfect imitation of daylight is not always what you need; sometimes you may want to go out at night and would wonder how you would look in that environment rather than the bright one which your LED lighted mirrors create. So if you're preparing for a night out, you might want to dim the light to see if you still look good in the type of lighting you'll be spending the night in…
Color Rendering Index: Also known as CRI, the Color Rendering Index of the light source is an important thing to consider when buying your vanity backlit mirrors. This is an expression of how well the light bulb reproduces colors. A CRI value between 60 and 75 is the best for makeup application and tweezing your eyebrows because it gives the best representation of daylight in its natural form. Having a CRI between 20 and 30 will make it harder to blend colors during makeup and will give your reflection a washed-out appearance.
Other Properties That You Should Consider
While LED mirrors are generally all made the same way, there are differences in the way they are shaped as well as how and if they are framed.
Magnification: Check if the mirror has a magnification option (Double sided). This is great for tasks like eyebrow shaping because then you don't have to lean in close to see properly. 5 x magnifications are just right, while higher depends on preference. Personally, higher magnification makes my eyes feel a little cross-eyed...
Size: Make sure you have the mirror size you need to be worked out beforehand, especially if you're buying the bathroom mirrors with lights online. You might buy a mirror and find that it's a tiny little thing you can't really use properly. If you buy a swivel mirror, ensure that the dimensions fit in your bathroom or makeup station. Also, remember to check how tall the base is because then you'll know whether it'll fit in a space with limited height. If you want a portable mirror, don't go for the large bulky ones and find a smart size that suits you.
Shape: After you have made your decision on the size of your LED mirrors, the next thing to consider is its shape. The shape is a feature that is more towards the aesthetic aspect of the mirror rather than its functionality. Mirrors after all are household equipment and therefore should match the existing design and feel of the room it's kept in. Being two dimensional, mirrors can be cut and made into many shapes. Most mirrors are rectangular but oval, round and even abstract mirrors are available for purchase. But rather than the mirror being the shape in the discussion, in some mirrors the frame is what gives it shape. With these various shapes, decoration possibilities are endless.
Placement: One important factor you should consider when buying a vanity backlit mirror is where you are going to keep it. If you'll be placing it on a surface, a mirror with a smaller base or an adjustable one takes up less space in your home. If you need the mirror to be a wall mount, having an adjustable arm will be better suited for whatever position you'll be applying makeup from.
Portability: If you'd like to travel with your mirror, there is an assortment of handheld travel mirrors with LED lighting available. Otherwise you could carry it with you if your base is adjustable.
Function: Although the main purpose of your lighted mirror is going to be for having a clear view of you while dressing up, for some of us need additional functionality for our mirrors. Some normal bathroom mirrors have a cupboard fixed to the back of the mirror to store your bathroom goods. These are called vanity mirrors. If you require a similar function from your vanity lighted mirror, don't worry as many manufacturers have gone into the business of building vanity mirrors. You can find many such products in stores today.
Consider the Room's Style: To have a fabulous finish, it's always good to match your LED mirrors to your room or bathroom's deco. So go with your heart and add some aesthetic value without going just for the function of the mirror.
When shopping for a bathroom mirror, keep these helpful pieces of information in mind along with your personal preferences in terms of features to make the task a little bit easier. You would enjoy a LED Bathroom Mirror. They can provide a lot of benefits to your home. These advantages are numerous and not only increase the value of your home but make it look better at the same time.
Benefits LED Bathroom Mirrors
These benefits make LED Bathroom Mirrors more than worth it because they offer:
Real Energy Savings: High-quality LED bathroom lights can lower your energy bill and provide a usage time of about 50,000 hours. That's almost 10 years of being turned on, which means they should last for much longer in real-time.
Anti-Fog Benefits: High-quality LED Bathroom mirrors utilize an anti-fog system. They don't fog up when you take a shower. This benefit makes it easier for you to use your mirror.
Healthier Light: You are exposed to high levels of blue light interacting with computers or cell phones. Thankfully, LED lights can provide a quality of light very similar to natural light. Moreover, that can avoid health complications.
Handsome Decoration – High-quality LED lights look cool and provide a variety of style options for your bathroom. Even better, you can utilize different color bulbs to create an attractive and stylish look for your bathroom that you can't get in any other way.
Durable Design: LED lights are surprisingly more durable than other lights like them on the market. As a result, they can withstand many types of wear-and-tear damage and will look great for years to come. They are certainly more durable than average light bulbs.
Del Mar Mirrors has launched a new line of Luxury LED Bathroom Mirrors, with both Front-Lit and Back-Lit options. The mirrors feature Luxury Design Aesthetics and High-Quality Electrical Components. They are the perfect addition to your Vanity, as they offer a Sleek Modern Mirror with Lights built-in. The Pearl and Coral flagship models will be a staple piece in your bathroom for years to come.
Backlit Bathroom Mirror
Backlit Mirror is one of the most popular mirror types. They are usually installed in bathrooms, which uses LED lighting tubes that sit behind the mirror, outlining its perimeter. It gives off a subtle but sufficient light that makes it easier to shave and apply makeup. In addition, you can do whatever it is that requires a well-lit reflection. Through the LED lights, the mirror can create a glow, which can be a standout light source in the bathroom. You can create a relaxing ambiance.
Coral Backlit Led Bathroom Mirror
If you want to maximize direct illumination, the Coral Backlit Mirror is perfect for you. One inconvenience in the bathroom is that once you have left the shower or bath, you will find that your mirror has completely steamed up and you are unable to see your reflection through it. With the Defogging Heated Glass, that's not a problem. LED lighting products produce light up to 90% more efficiently than incandescent light bulbs. High-quality LED bathroom lights can lower your energy bill and provide a usage time of about 50,000 hours. That's almost 10 years of being turned on, which means they should last for much longer in real-time.
Features
Touch Screen Buttons
Dimmer
Defogging Heated Glass
Bright Light Energy Efficient Led Light
Solid Full Body Anodized Aluminum Silver Frame (Rust Resistant)
Coral Backlit Led Bathroom Mirror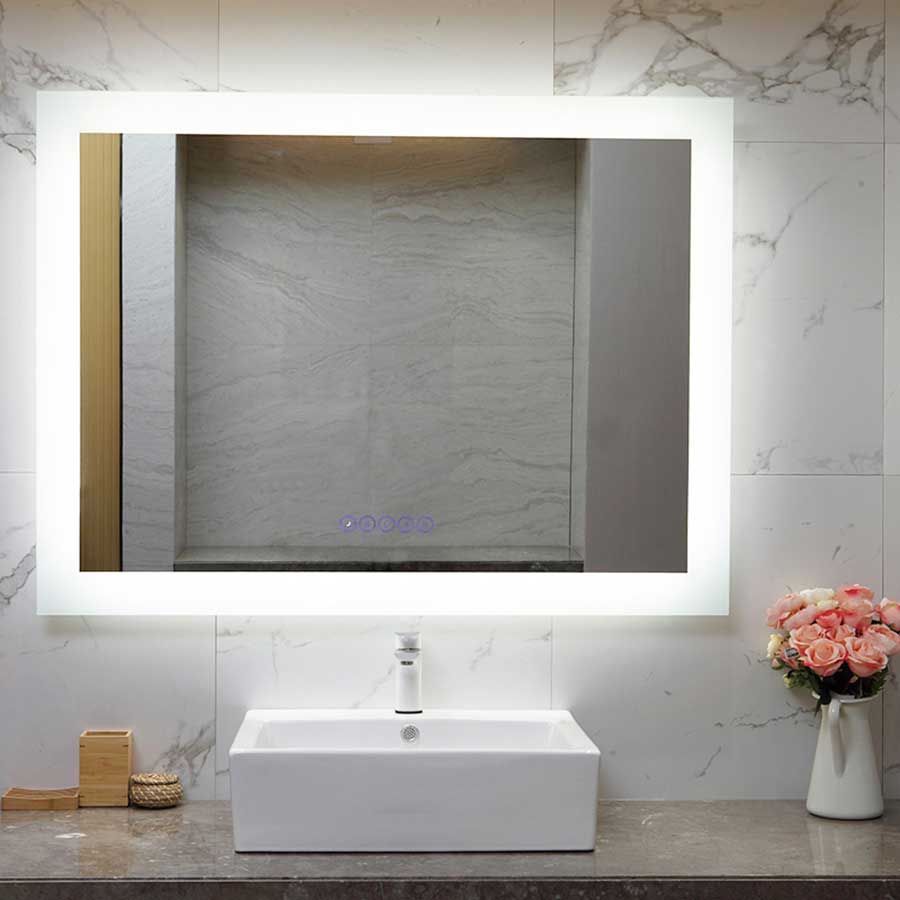 LED Bathroom Mirrors Trends
Choosing the perfect bathroom mirror
Bathrooms are one of the most practical and busiest rooms in the house, but that doesn't mean they shouldn't look great. We understand how difficult this can be, especially since there's only a handful of items of furniture that you can put in a bathroom without it looking small and cluttered. But there is one thing that can make a noticeable difference in a bathroom, even if the rest of the room is a little neglected…and that's a mirror.
Despite it being as practical as the bathroom itself, a mirror can transform a space, not only by making it brighter but by making a statement too. There are so many different types of mirrors available to choose from, but picking the right one is really important. Wooden framed mirrors are often a popular choice due to their low price, but wood can warp and discolour quickly in damp conditions. So rather than making a quick purchase, take a look at our guide and shop around to find the mirror suited to you…
Form
A mirror can come in many different shapes and sizes and the most suitable for your bathroom will depend on its shape and size too. If you're lucky enough to have the wall space, a large hung mirror will make a huge difference to the room. You may also prefer a mirrored cabinet to provide essential storage space as well. It is important, however, to remember that a cabinet won't sit flush to a wall, so the placement of the cabinet must be considered before you make a purchase. The most popular choice, we find, are the slimline mirrors. These have the ability to look sleek and stylish whilst taking up very minimal space on the wall.
Function
You may not think of a mirror as the height of technology, but it have come a long way in the last few years! Rather than opting for a standard mirror, there are a number of useful functions that can enable you to make the most of your bathroom experience in the most convenient ways possible...
Lighting
Many mirrors now come with built-in lighting, including battery or mains powered. These can be as simple as a backlit mirror or as modern as an LED colour changing mirror. It's important to consider the power source before buying an LED mirror, as there are pros and cons to each.
Demisters
One inconvenience in the bathroom is that once you have left the shower or bath, you will find that your mirror has completely steamed up and you are unable to see your reflection through it. This is why many mirrors now have a demister pad, which is activated by a small switch and will safely heat up to clear your mirror in seconds. • Magnification – Magnifying mirrors are great for applying make-up, brushing your teeth, shaving and any other grooming tasks that require absolute precision. Freestanding vanity mirrors usually have a standard side and a magnifying side, but more and more full-size mirrors are devoting a small area to magnification.
Shaving Points
Always a useful bathroom addition but often only found in hotels, many mains powered mirrors now have one or two built-in shaver sockets, allowing you to charge your electric shaver or electric toothbrush whilst keeping them next to your mirror.
Bluetooth Audio
Listen to your own music in the bathroom with the help of a Bluetooth audio mirror or cabinet. This innovative technology allows you to wirelessly connect your devices safely and securely to your bathroom mirror, allowing you to thoroughly enjoy your bathroom experience.
Infrared Sensors
Rather than having to dry your hands and then switch on the lights on your mirror, or have to touch the buttons on the mirror constantly, you can now simply wave your hand along the motion sensor and the lights will turn on and off, effortlessly.
Practicalities
Moving on from the features, one of the most important aspects of a mirror is the size of it, so you should make sure you know exactly how much wall space you have for your mirror and factor in things such as doors, windows, and any required storage space that's needed. It's also worth noting that mains powered LED Mirrors aren't suitable to be placed in certain areas of a bathroom, as they can only withstand a certain level of water, so be sure to read any instructions that and extra information you may need to be aware of when browsing for mirrors.
Make sure you're familiar with the wall that the mirror will be hung on, a heavy mirror will be unsafe on a weak or unsupported wall, or you may even find that it simply won't go up. Similarly, it's really important to make sure the mirror is fitted properly, not only does a broken mirror bring seven years of bad luck, but it's also very dangerous. After purchasing a mirror for your bathroom, we would recommend hiring a professional electrician or fitter to install the mirror for you, this way you can be sure that the mirror will be hung and connected up safely and properly.
Whether you are a makeup artist or a hairdresser, you will always need a mirror. You could be a professional stylist or you could be a novice who just loves to work on their smokey eye whenever they get the chance, but a good mirror is something essential for both parties. In this article, we will be exploring many of the top options when it comes to wall mounted lighted mirrors and providing a well thought out review of each. Amazon stocks and ships all of these mirrors and most of them are included in an Amazon Prime membership which ensures your mirror will get to you quickly with 2-day shipping. The faster the delivery, the faster you can begin to enjoy your luxurious new mirror.
From old Hollywood movies to current blockbusters, there are many iconic scenes where our big stars will set themselves down in front of a glorious mirror and clean up a bit. With mirrors like these, it's not hard to bring that feeling of elegance and charm directly into your home. Wall-mounted mirrors came into style around the 1940s and since then they have been considered a classic and they are still very prevalent today. Especially in dressing rooms, a huge lighted mirror mounted on the wall is pretty standard. If you're looking for your next purchase, look no further. This list is sure to have you falling in love with one of these amazing products. Without further ado, let's jump in!
Change Stainless Steel Mirror
Another from Chende, this mirror is as modern as it is classic. With 10 replaceable LED bulbs and 2 backups, this mirror is sure to light your space adequately. This mirror is stainless steel which will give you a very professional, sleek look all while keeping an air of fun with its 10 round bulbs. Whether you want your working space bright or dull, you can have it that way! These bulbs are dimmable and have the ability to turn both on and off full power. The frame is very slim leaving plenty of space for you to stretch and work from many different angles as it leaves the majority of the mirror free of obstruction. The mirror comes in both landscape and portrait form and both look equally stunning. The mirror comes with power outlets on the side so that you may plug in your tools with ease leaving your area picked up and tools easily interchangeable. This mirror is perfect for anyone seeking a mirror that is both modern and professional.
MODERN BATHROOM MIRRORS: THE EVOLVING BATHROOM MIRROR
Bathroom mirrors have long been a good investment for your bathroom space as they help to create a feeling of spaciousness by reflecting the natural light around a room. They are also vital for you to carry out your daily bathroom routine successfully. As with all bathroom items modern mirrors are evolving to feature extra luxuries and functions to enhance the functionality of your bathroom. Lighting on mirrors is one of the most basic advances in the mirror market in comparison to the extra add-ons available now. A high tech bathroom mirror could well become one of the most sought after contemporary bathroom accessories. Read on to see what is found in the ever-evolving modern bathroom mirrors market. Bringing that luxury to your bathroom and finding out what advances we can expect in the future.
WHAT FEATURES ARE AVAILABLE ON MODERN BATHROOM MIRRORS?
LED/BACKLIT MIRRORS
Additional lighting on a mirror has been a popular feature for a good while now as it helps to illuminate the mirror for the user. These modern LED lights are a light source that aids your daily routine and they tend to be behind the mirror or around the edges. The light helps to create balanced lighting to assist you in applying your make-up or trimming your beard which is more effective than the overhead lighting previously seen as most popular. This is especially beneficial in bathroom spaces with little or no natural light. LED lights also create less glare than standard lighting which can help to create ambient lighting for you to relax away in your bathroom.
LED lights will only continue to flourish in the modern market due to the fact they are more energy-efficient. They provide excellent illumination whilst reducing your energy consumption. We stock a wide range of LED mirrors available in both portrait and landscape orientation and also in a variety of different shapes. The choice doesn't end there with the range of different styles of the mirror from ultra-modern to more traditional there is one to suit every bathroom space.
MIRRORS WITH MUSIC
Tenor Audio Bathroom Mirror
Within our range of bathroom mirrors, you will find four different designs of mirrors that feature a function to play your music via Bluetooth. This means you can really set the tone for your bathroom through the form of sound whether you wish to create a tranquil relaxing time or an invigorating wake me up. The sound is played through integrated stereo speakers within the mirror unit.
Check out our Tenor Illuminated Bluetooth Audio Bathroom Mirror for a bathroom mirror that truly has it all. Complete with a DAB/FM radio tuner and Bluetooth player that are remotely controlled along with a demister pad and digital clock. Not to forget the LED lighting with hands-free control you can create the perfect atmosphere in your bathroom. Who knew bathroom mirrors could be so high spec?
Ultra Portal Backlit Mirror
We also have the Ultra Portal Backlit Mirror which plays music through a USB port and features a touch control panel to let you control the sound. The concealed speakers on this mirror helps to keep it looking sleek and modern within your bathroom. This mirror also features a digital clock and a useful shelf to store those bathroom essentials close to hand.
MIRRORS WITH SENSORS
Touch sensor mirrors help to create a more minimalist look to your bathroom with controls similar to those seen on modern phones and tablets. A sensor in the main mirror responds with a slight touch to turn the light on and then back off again. For an even more modern touch, infrared motion sensors detect your presence at the mirror and turn the mirror on/off accordingly. This is useful if you have wet hands as you then won't leave a mark on the mirror.
MIRRORS WITH DEMISTER PADS
It's not ideal with our busy lifestyles to get out of your warm shower to find that you can't complete your daily routine until your mirror is free of the condensation that forms when warm moist air is present, and we all know that wiping it only leaves the mirror smeared later. Demister pads are heated mirror pads that keep the mirror warm thus preventing the condensation from forming. These pads are efficient enough that they should be warm-up within a couple of minutes of being switched on. They are easy to fit and can be added to most mirrors. However, they are now a common feature on many modern bathroom mirrors such as those in our heated mirror range.
MIRRORS WITH 3D EFFECT
For a mirror that isn't just useful for its standard function choose a 3D effect mirror to create a really stunning and contemporary focal point for your bathroom. These 3D mirrors have LED lights which when illuminated look as though they go on forever and create a modern spectacle for your bathroom.
MIRRORS WITH MAGNIFYING INSET
HiB Optical Bathroom Mirror
Magnifying areas of your face can help with shaving or applying certain lotions and potions and such mirrors have long been available but there is a modern trend towards standard mirrors featuring a useful magnifying inset. This is preferable to a whole mirror magnifying all of your faces as it's not what we all want to see first thing on a morning, our imperfections magnified around the room! Check out the HiB Optical Bevelled Edge Bathroom Mirror which features a circular magnetic height-adjustable magnifying inset perfect for everyone who uses the bathroom due to this flexibility.
MIRRORS WITH SHAVING SOCKETS
Agreed this is not the most exciting of features for a bathroom mirror but it is still functional and saves you having to add a shaving socket to your wall space helping to keep your bathroom looking sleek and modern. Many mirrors feature this alongside some of the other contemporary features already mentioned.
WHAT MIGHT THE FUTURE HOLD FOR BATHROOM MIRRORS?

As technology advances bathroom mirrors are only going to continue this evolution towards an interactive computer. They will surely have the capacity to show more than just your reflection in the future and with broadband connectivity a possibility it could well analyze your vital statistics along with a daily news and weather report for the day ahead. Mirrors could scan your face and give you advice on which areas of your face is dry and needs more moisture or if you are successfully covering a blemish and even feedback on your teeth.

With the advances in mobile phones ever-growing these will surely only expand into bathroom mirrors and who knows when apps for your bathroom mirrors may arrive. Think voice activation and hands-free chat so that the bathroom can be as hygienic as possible. With social media being at the heart of modern life you won't miss a second if these mirrors become more interactive without risking dropping your iPhone in the bath. The possibility for the advancement of modern mirrors is endless!

Tags: LED Lighted Mirrors