Bathroom mirror types are mattered to opt for whatever styles, functions and size they are used. The right mirror is able to become the catching eye and has a deep impression on any user by enhancing your room style. It's easy to create an illusion of extra space esp for these narrow bathrooms, so the choice and installation of a mirror are hard work for regular users. You dont have to learn about all its specifications and principle but we sincerely recommend you keep going on the next contents as it's a complete introduction of bathroom mirror types. Make it clear, helping you do an option which one is more proper for your bathroom

Types of the bathroom mirror
The mirror types for a bathroom range from regular without light to LED illuminated based on its function. Aside from the light mirror, others like smart, ledge, pivat, wall-hung, etc all perform perfectly as per characters no matter what's your requests to them.
Suspended mirror
The suspended mirror is another variation of the regular wall mirrors. In contrast to been glued on the wall tightly, it is suspended by a solid chain or hook. The suspended mirror is often designed in a circular shape in order to collect the central point to the wall, which largely improves the mirror stability in case of falling down even a slight touch. Sometimes, the suspended mirror is regarded as an accent mirror due to its mini and exquisite design, matched both traditional and modern decor, added another layer of aesthetic appeal. Plus, it's not only a simple mirror but movable attachments to be placed anywhere even the bedroom, the hallway and the cloakroom.

Captain's Mirror
Captain's mirror consists of a round wooden bowl or tray, a built-in mirror, and two leather belts. The two belts are met to tie with the final knob. It's an additional decoration to make for a great focal point in the powder room instead of being practical in bathrooms. Owning a captain's mirror is tended to be a trendy fashion because it seems to blend the traditional and modern interior style. If you are preferable to hang with the wall in the bathroom it's a good idea to hung above the vanity whether it's a single or double sink, which will be convenient and impressive to use. But I have to make a complaint that the captain's mirror is really more expensive and less online supplier. In addition, the installation steps might be a little complicated. In a word, if you are the one with a large amount of budget and handy ability, it's absolutely good to buy one.

Pivot mirror
Similar to the frame mirror pivot mirror belongs to the wall mirror, too. The only difference is it features a flexible mount fixed with two hinged points, which allows you to tilt the mirror up and down. Through the adjustable angle to the mirror, make it possible to check any areas of your face, applying makeup, styling hair. Some even with magnetic function to enlarge the areas you are taking care of, which is super useful to people with short sight. Most of the pivot mirror comes with a traditional surface fil in perfectly with a classic bathroom. However, it's often only allowed for a limited vertical adjustment from top to bottom, but some with retractable arms to move at the 360-degree pivot.
Ledge mirror
Ledge mirror as it implies, it's not only a mirror but storage to put some necessities, which often build in a ledge connected with the mirror bottom to hold some items. This is sure to provide extra space for storing the bathroom items for daily use, like soaps, cosmetic tools, shaver, and even brushes. If you are the one used to keep everything in plain view it will be the best option. In addition, unlike these luxurious smart or illuminated mirrors, it's cheaper and quite easy to get. The ledge mirror is fit in well with any bathroom style, tradition, classic or contemporary.
Venetian Mirrors
Venetian mirrors are often matched with an Italian style because of their beautiful designs etched on the glass surface and the waved mirror border. You can go for it in a romantic and antique room as well, which makes the room more ornate and stylish. There are several shapes for the Venetian mirror to opt for, round, oral, and box with vertical. It's harder to get your satisfied decorative mirror. Therefore, here are several tips to offer a guide to pick the best Venetian mirrors.
How to choose Venetian mirrors
1. Nowadays there are many style options for Venetian mirror, the regular oval, round, and rectangular or some with a crown. So, it must meet with the theme of your house decoration.
Nevertheless, no matter which mirrors you select, it is capable of making the room fabulous and royal.
2. Firstly be sure to check the space of your room and pick a position to display in advance. Then according to the size of the wall to select the mirror. But dont forget the mirror size ought not to be too small or big or it will decrease the great impacts to the decor.
3. The last but important choice is the expense. In general, the price ranges from $50 to $200, won't be higher than other mirrors, even lower than those with LED and pivot. It's acceptable to upgrade the interior design at a limited price. In addition, the Venetian mirror models are multiple online instead of vendors.

Extension mirror
If you have a cramped bathroom without extra space to place the vanity or larger size mirror the extension mirror would be activated due to its small shape and flexibility. An extension mirror is often installed on the wall by an accordion mount. As its another nickname "swing arm mirror" implies, the mirror fixed by the metal holder is able to vary up and down, left and right. Whatever angles, you can get a very close version to your face whether makeup, shavers or apply skincare products. You can pull out and retract when you need. Hence, not only at home use, extension mirror is often applied to the hotel as a complement together uses alongside other mirrors. Aside from the regular flexible ability, some models are installed with LED light around their edge in case of a dim environment. Some models feature a good magnetic function max to 5x, which is sure to check carefully more areas of your face.
As for the price, it ranges from $20 to $30 on Amazon, rather lower than the above-mentioned mirrors. Every girl should have owned such one at-home use because of so many pros that we nearly ignore its disadvantages.
Lighted mirror
As its name suggested, lighted mirrors are built-in LED or non-led light. These light bulbs are usually installed on the back, top, sides, or surrounding all the mirror frame. Most of the lights are made of energy-efficient LEDs for their numerous pros, such as environment-friendly, energy-saving, stronger light and fewer costs. After installed the lighted mirror, you dont have to turn on the interior light or pull out the curtain just for the slight sunlight. Even under the dark weather, or dim environment, as soon as active the mirror, it will illuminate your face clearly if you are going to get groomed for a romantic date or dinner party. There are pretty of sizes and shapes to choose from for the lighted mirror, like oral, square, oval, and rectangle. The size could be made to order as your needs and the bathroom space. As the mentioned extensive mirrors, some of which built-in light bulbs surrounded all the frame. If you have more extra space, a full-length lighted mirror and a larger size are good to use as well.
Some advanced light mirror is equipped with a light dimmer which means to adjust the light strength from low to high. You know the interior environment is always changed, so just one type of light couldn't fit in well with all the needs. Another aspect is that the dimmer helps you save energy by decrease luminosity when it's brighter enough. The most applicable places for the light mirrors are focused on either bathroom of richer families or the hotel, after all, it's more expensive than a regular mounted mirror. The price has stopped lots of people outside the door. Actually, in my opinion, if without more requests to make up it's not a necessity for usual use.
Smart mirror
There are a bunch of mattered things to do every morning like taking a shower, applying skincare products, brush teeth and shaver. To be honest, it couldn't be completed all the things without staring at the mirror. Sometimes it even left a bad impression because of unclear beard, dropped makeup, and even the extra bubble on the face. Hence, be sure to keep decent and have a good manner before you go out. A mirror is prepared for you to get. We have mentioned the lighted mirror in previous content. But if it still not enough for you, absolutely the smart mirror integrated technological features will meet your requirements. As its name suggests, the mirror is so smart that it breaks out the traditional impression of people. And it built in an intelligent system inside to support multi-functional operation by users.
As much as you can imagine, the smart mirror is capable of realizing what you want. For example, the anti-fog system makes you use the mirror as usual in spite of steam and vapor in the bathroom; the light dimmer helps you adjust the lighting strength; the smart display shows a list of info like the time, date, temperature and latest news; The remote controlling makes you play all the functions in a long-distance; The TV player makes you feel relaxed whilst starting and ending on the day...There are several types of smart mirror.
TV Mirror
It may happen to all of us that it's so boring and spiritless in the morning to do all preparations before head out. I wonder a TV program you are preferable would be great to get rid of these wearies. That's the smart tv mirror that blends smart technology with design in a modern and innovative manner. Whether turned off or on, it combines seamlessly with the interior decor of your house. In general, a wide range of sizes is available to opt for. If you have an extra request, just make to order and send the detailed size, shape, frames, and other requirements to us.
Bluetooth mirror
Bluetooth mirror is able to connect the mirror with your phone to sync anything, like music, video and some documents. Some more advanced support the APPs connection with your phone to record statistics or do sports. In addition, it can link with Amazon Echo and iPhone Siri to convey some orders or instructions, which makes it possible to decrease hassle than ever before. The mirror design is as great as these regular mirrors not compromising the quality. You can still get a lower possible but good quality mirror.
Touch screen mirror
The touch screen mirror consists of three parts: a two-way mirror, a digital display, and a computer. Unlike regular smart mirrors, there is no light passing through at the back of the glass to view the display. In the con, the touch screen mirror is designed without LED light. Behind its back installed a monitor screen controlled by an internal computer. It is able to display any information for your touch screen smart mirror. With an array of smart technologies, you can do multiple things simultaneously in the time of using vanities, such as brushing your teeth while reading the latest news, weather, or stock updates. If you place the smart mirror in your house, it will be eye-catching of the room that makes your guest enjoy the good service like the hotel.
Unfortunately, all these smart mirrors are sold at a higher price due to their amazing features and tech pros. Plus, it would be harder to install the mirror with these complicated electric systems, but most vendors will provide free assistant.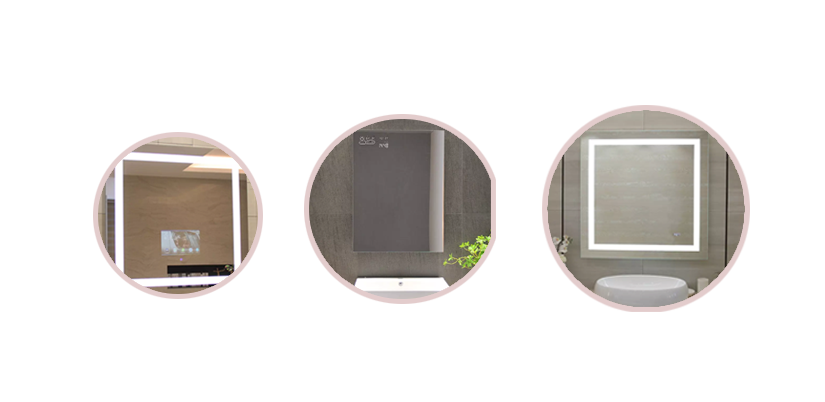 Anti-fog mirror
What makes you most furious is the condensation on the surface of the bathroom mirror after taking a shower or just wash your face. To solve the issue, you need either install a heated demister or order an anti-fog mirror. As we all know the physical science: condensation often occurs on window and glass surfaces, when hot water from your bath, shower, or basin turns into steam and then cools down again, turning back to a liquid. To prevent condensation, an anti-fog mirror tends to be an excellent addition to the bathroom. How does the anti-fog work? A thin and small pad is built in the mirror surface prevents it from getting condensed. When powered on the mirror, the pad tends to be warm so as to heat the surface of the mirror, keeping the temperature the same as the air. That means condensation is far disappeared once formed, leading to a fog-free mirror. And you are able to enjoy clear reflections whatever time you have showered in the bath.
The pros of anti-fog mirror
1. Without any waiting to the fog disappeared
2. A clear vision for any time
3. Energy savings compared with the simple demister
4. Ensure to both mirror and demister function
Vanity mirror
The vanity mirror is multi-functional furniture with a small cabinet to store some essentials. Unlike old styles of vanity, nowadays it comes with one or double sink, a big enough storage and a mirror with light or not. The built-in mirrored pieces not only add the bathroom space but also provide extra hidden shelves or other cabinets. It's the extended section of the bathroom, which could be any style modern, classic, or innovative matching well the resplendent room. The vanity history dates back to the 18th century when people sit in front of the mirror to groom themselves. That's a noble manner to check appearance before heading out of court. It's luxury furniture unavailable for commons instead nowadays everyone is able to have one as cheap as clothes. More people like to integrate the vanity mirror with artificial elements into interior decor. I have to admit the vanity mirror would be the best option to add more refreshment and convenience.
To select a vanity mirror there are a few considerations taken into, which are ensured to get best for you.

What to consider?
Before head toward the vanity mirror ask yourself some questions. Do you have a single or double sink vanity? What's the style of the vanity, classic, antique, tradition, or mid-century? What are the functions of the mirror, lighting, demister, touch screen? T personally think the style should be the primary consideration. You have to ensure the mirror blends with the overall theme of your interior decor.
Light or not
Light sometimes carries on the overall theme of the room, sorted to LED or non led. We recommend selecting the LED light due to its obvious features with energy-saving, more natural lights, and environment friendly. In addition, the light bulbs may be scattered around the edge of the mirror, built in the back, or inside the display. So to do a user experience in local vendors then decide which one you are preferred.
Mirror shape and style
Vanity mirrors come in several shapes usually, with square, oval, rectangular and circular or you even could customize the shape like your favorite design. In spite of these options, as long as it's coordinated with the vanity cabinet no more to consider. There are wall-mounted(most common), movable, hung-in vanity mirrors designed for a wide range of vanity styles. If you are not the one good at such things it would be sure to ask the seller's assistant in case of any damage to the mirrors.
Hollywood Mirrors
It's not a perfect dressing room to makeup, take great pictures, and style the hair without a Hollywood mirror. These days have gone when the mirror is only used by the celebrities in Hollywood due to the affordability. Everyone is able to get one whether the status you are. The mirror can be freestanding or hung on the wall, shapes coming with square, oval, or round. How to know if the piece belongs to the Hollywood mirror? More than 10 light bulbs around the mirror edge shining glamorously, it illuminates your beautiful face and makeup. Then it's the right option you are searching for. There are a couple of pros about why people love it so much.

Pros of Hollywood mirror
Good budget
The Hollywood mirror allows you to complete a more perfect makeup and unique look. The key point is with a lower budget it's affordable to everyone.
Great light
Hollywood mirrors consist of LED light around the outside on average, which allows it to work and illuminate without power to one side. There is no shadow as well when making up based on the evenly scattered lights.
Long lifespan
Each Hollywood mirror from our promises to be thoroughly tested in advance. We have set a high level for quality inspection to be ensured with overall excellent products.
Others
Aside from the above mirrors introduced, there are pretty of others like frame, frameless, full length, wall, and floor mirrors going well with your bathroom. All come with good design, affordable prices, and multifunction, available both local vendors and online stores. Are you eager to apply good makeup before head out? Then start from the mirror options!